Bambang Pamungkas
or are familiar with the title BePe still glowing in Indonesian football. Salute to the players on this one. Although lately BePe much criticism for his performance declining, but he proved his capacity as national team players who deserve respect. Two goals nested Bambang into Thailand's goal, brought Indonesia to change the history of the defeat of Thailand at AFF Cup.
But the most important is not the goal. Bambang who signed to replace Irfan Bachdim in the second round, able to lift morale and our players mentally.
Starting from minute 8 in the first half, Indonesia was under constant pressure Thailand. In the end, Indonesia was lagging behind by a goal at 68 minutes Suree Sukha.
This is where the role as a captain Bambang teams are very influential. Indonesia recover and strike back. When Indonesia was lagging behind, Bambang excitedly shouting words that burn the fighting spirit his team-mates.
Although not audible, but the impression one might expect that BePe say is "Indonesia can! We can!"
As a result, the retainer of Indonesia has launched a vigorous defense of terror and Thailand began to topsy-turvy. Each time you pause the game, he continues to convince his colleagues that Indonesia could beat Thailand.
When he scored the equalizer, he simply raised his hand without any excessive celebration. He does not boast scored because chasing something bigger, namely Indonesia victory, the victory of the whole team, and the victory of the entire nation.
And it looks after he scored a second penalty which brought Indonesia excel. This time Bambang very hysterical and emotional, showing happiness beyond measure.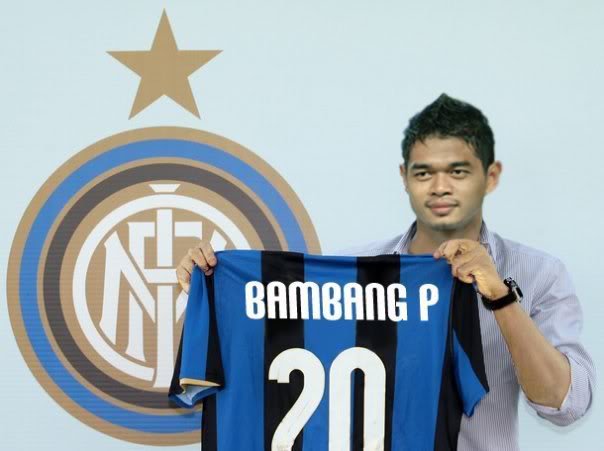 In fact, during the three games Bambang always be a backup. But he never protested the decision Alfred Riedl, although so far he is the principal figure on the front lines of Indonesia. This is a professional mental evidence Bambang Pamungkas, as he had to say:
"As a player, there is a principle which I will always hold in my football career. That is, I will always try to give my best capability and support a good team on the pitch, off the bench or from the stands ..."
And Bambang really showed how it should be a professional player. This mentality must dicontohi by several national team players we are too 'many natural' and 'self-important'.
In times of late in his career, Bambang still shows his dedication to the Indonesian national team. He did not play for himself. He did not pursue a personal ambition. He played for Indonesia and the struggle to bring Indonesia into achievement. 39 goals he created for Indonesia as evidence of struggle.
On when he turn 30 years old and his ability began to decline, criticism and insults began to arrive. But Bambang dedication and commitment to provide the best for Indonesia is not diminished one bit.
"The ability I would probably gradually subside over time, my sharpness as a striker will probably gradually fade away along with the development of football game itself. But "NO" with commitment and my dedication to the red team - white. WILL NEVER CHANGE ...! "
And when it comes time Bambang remove red and white costumes bearing the Garuda, he would become a legend in the story of the Indonesian national team trip.
"And until this moment, confidence, commitment and dedication, I also do not move and reduced a bit, will never be reduced comrades, until whenever. I'm not going to stop playing for the national team, until one day, energy and my thoughts are no longer needed by national team coach "- Bambang Pamungkas.
Thank you Bambang Pamungkas. Take Indonesia AFF Cup champion 2010.